Cobalt-60

Explore our legacy of nuclear medicine innovation
Building on its long history of excellence in medical physics and accelerator technology, the University of Saskatchewan (USask) is a leader in medical imaging technologies and applications.
This site, prepared by USask Research Profile and Impact, explores the many ways—starting with the development of world-renowned cobalt-60 cancer treatment technology—that the university demonstrates it is the "university the world needs" for nuclear imaging to advance human, animal and plant health.
Leading innovation in cancer treatment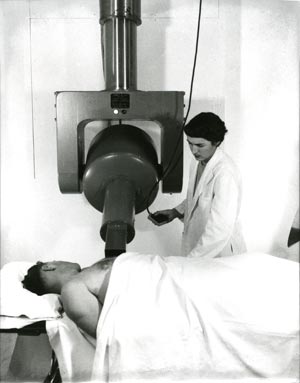 "I just want to thank the man that made that machine. It saved my life—and many, many more. It's wonderful!"
Patient Olga Campbell treated with cobalt-60 therapy in 1953; from a 1994 CBC interview


In 1951, University of Saskatchewan medical physicist Dr. Harold Johns and his graduate students became the first researchers in the world to successfully treat a cancer patient using cobalt-60 radiation therapy. This innovative technology—dubbed the "cobalt bomb" by the media—revolutionized cancer treatment and saved the lives of millions of cancer patients around the world.
Among University of Saskatchewan milestones in development of nuclear imaging technologies:
World's first betatron used in a cancer treatment program
World's first effective radiation machine for cancer treatment (cobalt-60 unit)
Canada's only synchrotron—the Canadian Light Source (CLS)
North America's first Biomedical Imaging and Therapy Beamline (BMIT at the CLS)
Produced medical isotopes without enriched uranium or a nuclear reactor at the CLS
Sylvia Fedoruk Canadian Centre for Nuclear Innovation opened in 2011 to support nuclear research and manage the Saskatchewan Centre for Cyclotron Sciences
Saskatchewan Centre for Cyclotron Sciences, a facility for research and production of isotopes for the province's first PET-CT scanner, launched in 2016
Explore on this website the WDM online exhibit "The Cancer Bomb", the timeline of USask achievement in medical imaging, videos of the people who made this all happen, and stories about the exciting USask research that is carrying on this legacy.